ACS Product Catalog
The ACS Scientific MCR Catalog Page
The ACS Scientific Product Catalog
Advanced Control Systems Corporation designs, manufactures and supports a wide variety of application specific and general purpose motion control systems. In this catalog you should find exactly what you need.
Advanced Control Systems Corporation

Here For Support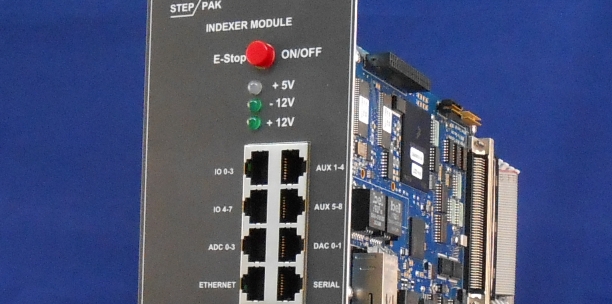 Call us at any time to speak with a real live engineer, or contact us by e-mail for product information, quotations and/or product support. 781-562-0475 support.desk@acsmotion.com
Product Catalog
MCR-4 / MCR-8
4 and 8 Axis Stepping Motor Intelligent Motion Driver/Controllers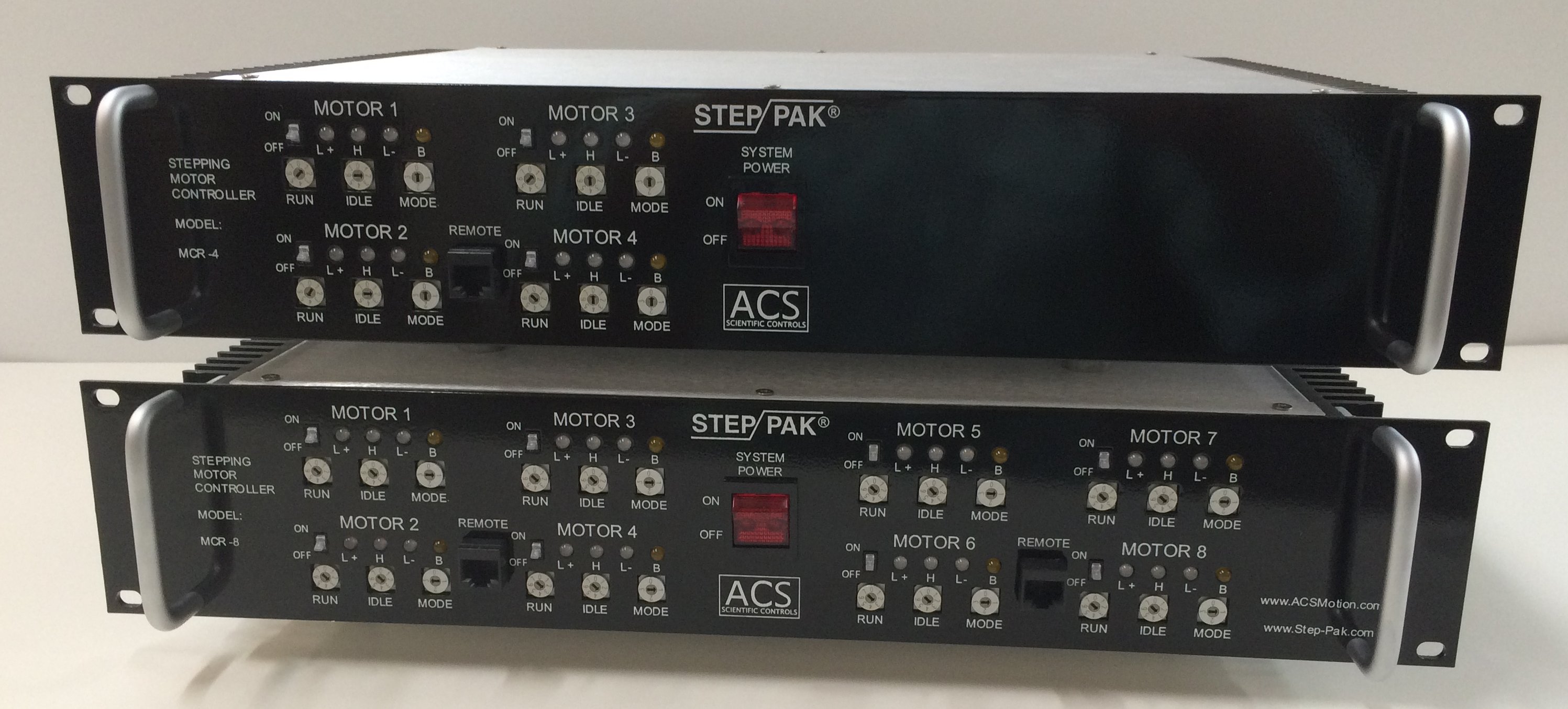 The MCR series Intelligent Motion Driver/Controllers are 4 and 8 axis integrated stepping motor controllers that drive and control 2-phase stepping motors with phase currents from 0.25 to 3.0Amps/phase, simultaneously. MCR controllers perform indexing functions without the need of a host computer, or can operate under the direction of a host. The MCR's internal non-volatile memory will store and execute a programmed instruction set. High efficiency, low noise motor drivers provide ideal remote control for multi-axis positioners, beamline shutters and other laboratory control instrumentation.
Find full driver support for the MCR Series Driver/Controllers in Certified Scientific Software's spec X-Ray Diffraction and Data Acquisition software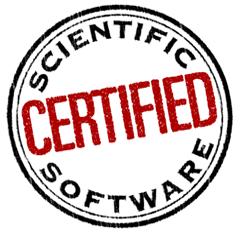 and the EPICS Experimental Physcis and Industrial Control System
MCR Series Controller Features
Powers, Drives and Controls up to 4 (MCR-4) or 8 (MCR-8) 2-Phase Stepping Motors with Stepping Rates up to 50,000 Steps/Sec.
Adjustable Motor Winding Current 0.25 – 3.0 Amps/Phase
High Efficiency, Low Noise Motor Drivers Designed for Laboratory Applications
Nonvolatile Memory for Control Variables & Comprehensive Motion Instruction Set
Quick Adjust Front Panel Controls for Setting & Changing Motor Current, Idle Current and Stepping Mode
Front Panel LED Indicators for Home, Limits and Motor Busy Status
Certified Scientific Software – spec Driver Support
EPICS Driver Support
Ethernet & RS-232 Serial Communications
Circular Connectors
Motor 5-Pin Conxall/Switchcraft Type
Limits 7-Pin Conxall/Switchcraft Type
Optional External Manual Jog Control
MCR Series Controller Specifications
Motor Drive Current 0.25 – 3.0 Amps/Phase
Motor Idle Current 0 to 3.0 Amps/Phase
System Power Supply – 120VAC Standard

220VAC Optional
2-Phase Bi-Polar Stepping Motors, or
4-Phase Motors Connected as 2-Phase
0.25 – 3.00Amp Winding Current
Low Noise Bi-Polar Chopper Drive
Half Step with Torque Compensation
Quarter Step with Torque Compensation
Eighth Step with Torque Compensation
Operating Temperature 0C – 50C (32F – 140F)
Storage Temperature -20C – 70C (-4F – 160F)
Humidity <95% Non-Condensing
Width – 19.00" (482.60mm)
Depth – 15.25" (387.35mm)
Height – 3.469" (88.11mm) / 2U Rack Spacing
Circular Connectors for Motor and Limits Wiring
---
---
Download the MCR Series Product Brief Here...
Download the MCR Series User's Manual Here...