About ACS page
More about Advanced Control Systems Corporation...
Advanced Control Systems Corporation (ACS Scientific) is a designer and manufacturer of stepping motor drivers, servo motor amplifiers, integrated driver/controllers and standalone programmable machine controllers for scientific and industrial applications.
Advanced Control Systems Corporation

Here For Support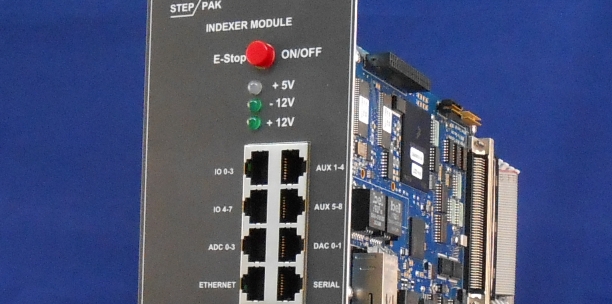 Call us at any time to speak with a real live engineer, or contact us by e-mail for product information, quotations and/or product support. 781-562-0475 support.desk@acsmotion.com
ACS Scientific
Our controls are designed to be affordable as well as reliable. They employ robust and dependable electronics and technology to accomplish high performance at low cost.

We offer a line of standard control systems and we build custom systems to specification. We draw upon a depth of experience in control system technology and participate in research and development projects in the fields that we serve.

Our principal resource is our people. Our specialties are varied and include expert qualification in computer sciences, control engineering, semiconductor electronics, and physics
.
Buying ACS Scientific Products
ACS Scientific
sells its products directly, and through a worldwide network of professional manufacturers representatives and channel partners who are specialists in motor and motion control product applications.
With approved credit Advanced Control Systems Corporation's standard terms are Net 30 days. Freight terms are F. O. B., Our Dock, Pembroke, MA

Shipping charges are billed to the customer unless otherwise specified on your order.

We accept Master Card, Visa and American Express for payment on the purchase of all items.
In order to establish a credit account, we need copies of your business and bank references. A Dun & Bradstreet number is also helpful.
PRICE AND AVAILABILITY INFORMATION IS SUBJECT TO CHANGE WITHOUT NOTICE.
FOREIGN ORDERS:

Credit terms on first-time foreign orders, are payment via either credit card or wire transfer. Equipment is shipped upon receipt of payment.

After the first order, credit may be established by providing business and bank references, or a letter of credit. It is preferable to have at least one U.S. business reference. Upon acceptance, a Net 30 day account may then be established.
Shipping, custom and duty charges are billed to the customer.
PRICE AND AVAILABILITY INFORMATION IS SUBJECT TO CHANGE WITHOUT NOTICE.
Advanced Control Systems Corporation Limited Warranty:
Advanced Control Systems Corporation (ACS)
warrants its products to operate within specifications under normal use and services for a period of one year from the date of shipment. Component products, spares, replacement parts and repairs are warranted for 90 days. Software is thoroughly tested and thought to be functional, but is supplied "as is" with no warranty of any kind covering detailed performance. Accessory products not manufactured by ACS are covered by the original equipment manufacturers warranty only.
In exercising this warranty, ACS will repair or, at its option, replace, any product returned to the customer service department or an authorized service facility within the warranty period, provided that the warrantor's examination discloses that the product is defective due to workmanship or materials and has not been caused by misuse, neglect, accident, or abnormal conditions or operations.
The purchaser is responsible for the transportation and insurance charges arising from the return of products to the servicing facility. ACS will return all in-warranty products with transportation prepaid.
This warranty is in lieu of all other warranties, expressed or implied, including but not limited to any implied warranty of merchantability, fitness, or adequacy for any particular purpose or use. ACS shall not be liable for any special, incidental, or consequential damages, whether in contract, or otherwise.
ACS
offers repair services on all equipment after the expiration of the limited warranty period. Evaluation of the problem is performed for a minimum charge. Please contact us directly for a published schedule of repair service charges.
Advanced Control Systems Corporation Privacy Policy:
Advanced Control Systems Corporation (ACS) is committed to respecting your online privacy and recognizes your need for appropriate protection and management of any personally identifiable information you share with us.
ACS has established this Online Privacy Policy so that you can understand the care with which we intend to treat your Personal Information. Personal Information means any information that may be used to identify an individual, including, but not limited to, a first and last name, a home or other physical address and an email address or other contact information, whether at work or at home. In general, you can visit our web pages without telling us who you are or revealing any Personal Information about yourself. If you choose to provide us with your Personal Information on the Web, we may transfer that Information within ACS or to an ACS third-party service provider, across borders, and from your country or jurisdiction to other countries or jurisdictions around the world.
ACS strives to comply with all applicable laws around the globe that are designed to protect your privacy. Wherever your personal information may be held within ACS or on its behalf, we intend to take reasonable and appropriate steps to protect the Personal Information that you share with us from unauthorized access or disclosure.
By using this Web site, you consent to the terms of our Online Privacy Policy and to ACS processing of Personal Information for the purposes given above, as well as, those explained where ACS collects Personal Information on the Web. Should the Online Privacy Policy change, we intend to take every reasonable step to ensure that these changes are brought to your attention by posting all changes prominently on our web site for a reasonable period of time
Advanced Control Systems Corporation Limitation of Warranties, Disclaimer of Damages:
THIS WEBSITE AND ITS CONTENTS ARE PROVIDED "AS IS" AND "AS AVAILABLE" WITHOUT WARRANTY OF ANY KIND, EITHER EXPRESSED OR IMPLIED, INCLUDING, BUT NOT LIMITED TO, THE IMPLIED WARRANTIES OF MERCHANTABILITY, FITNESS FOR A PARTICULAR PURPOSE, TITLE OR NONINFRINGEMENT. IN NO EVENT SHALL ADVANCED CONTROL SYSTEMS CORPORATION BE LIABLE FOR ANY SPECIAL, INCIDENTAL, INDIRECT OR CONSEQUENTIAL DAMAGES OF ANY KIND, OR ANY DAMAGES WHATSOEVER RESULTING FROM LOSS OF USE, DATA OR ANY PROFITS, WHETHER OR NOT ADVISED OF THE POSSIBILITY OF DAMAGE, AND ON ANY THEORY OF LIABILITY, ARISING OUT OF OR IN CONNECTION WITH THE USE OR PERFORMANCE OF THIS WEBSITE AND ITS CONTENTS. THIS WEBSITE COULD INCLUDE TECHNICAL INACCURACIES OR TYPOGRAPHICAL ERRORS. CHANGES MAY BE MADE TO THE CONTENT OF THIS WEBSITE AT ANY TIME. IN PARTICULAR, PRICE AND AVAILABILITY INFORMATION IS SUBJECT TO CHANGE WITHOUT NOTICE.